The results for first game in Singapore ; Malaysia [3], Singapura [5].
Game fisrt half dimulakan dengan kegembiraan bila 20++ saat pertama, Safee Sali berjaya menjaringkan goal pertama untuk pasukan Harimau Malaya. Good job! Memang aku melompat habis!! Game baru mula tapi Alhamdulillah dengan pantas Safee tak bagi peluang untuk Singapura.
Namun begitu,di minit-minit kemudiannya Kuili,pemain Singapura yang di-import dari China memakai jersey no 11 telah berjaya meloboskan goal Malaysia dengan sepakan penalty. Lepas tu goal demi goal Singapura rembat.
Penyokong-penyokong Harimau Malaya me
mang marah,geram,panas hati dengan keeper Malaysia malam ni sebab terlalu memberi peluang dan tak nampak effort untuk halang bola daripada lobos ke kawasan goal.
First half berakhir dengan keputusan Singapura [4]-Malaysia [1]
Second half nampak ada kemajuan bila Amirulhadi mula merancakkan permainan.
Suddenly ada accident antara Safiq Rahim (Capta
in) dengan player Singapura dan refree yang k**** dari Bahrain dah melayangkan kad merah untuk Safiq walaupun Safiq dah rayu & say sorry to the refree. Giler ah terus kad merah!
Few mins,player Singapura yang dah attack Safee masa awal permainan which is a Captain for Singapore team pulak dapat kad merah.Nice one! So now player adalah 10-10 and without Captains :D !
Lepastu Guna pulak asyik naikkan bola,so banyak jugak trials yg Harimau Malaya player buat tapi tak semua berjaya. At last dapat score another 2 goals berturut-turut. Phewww Alhamdulillah~
Then Alexander amenda entah yang penting bukan Ting Tang Ting Tang Alexanderrrrrrrrrrr lah kan masukkan 1 lagi
goal,defender Malaysia yang sangat weak buat goal tu nampak macam 'sedekah amal jariah' kepada team Singapura.
Overall,tak puas hati sangat dengan game ni but the score tu macam worth it jugak sebab:
#Players Singapura almost semuanya IMPORTED!
#Padang sintetik/tiruan yang buatkan bola bergolek-golek dengan lebih laju daripada rumput biasa,makanya player Malaysia lebih letih daripada biasa sebab tak get used to that kind of momentum kan. Everything must be so fast!
#Mungkin sebab player Malaysia tak sempat solat Maghrib sebelum game sebab game start at 7.30pm walaupun Maghrib masuk awal di Singapura. Diaorang Musafir,so consider okay la kannn.
Apa-apa pun,2nd match di Bukit Jalil pada 28 July 2011 ni mesti gamat habis dengan penyokong-penyokong Harimau Malaya. Aku nakkkkkkkkk sggggggggtttttttt pergi tengok LIVE! Tapi surely ibu bapak di rumah ni tak kasi aku pergi.arghhhhhhhhhhhhhhh!!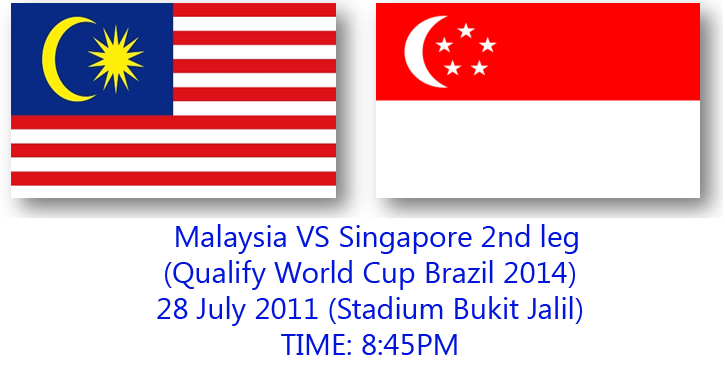 Really looking forward for this game.Hopefully our National Team can do better and qualified to the next stage,Amin!
p/s: Tolong jangan guna keeper malam ni lagi untuk second game kalau nak menang ;'(